2019 Utility and Oil and Gas Intern Spotlights
Learn more about the 2019 #TeamThrasher Utility and Oil and Gas Interns! Keep up with their experiences and find out what knowledge they are gaining from their #SummeratThrasher.
Noah Yokum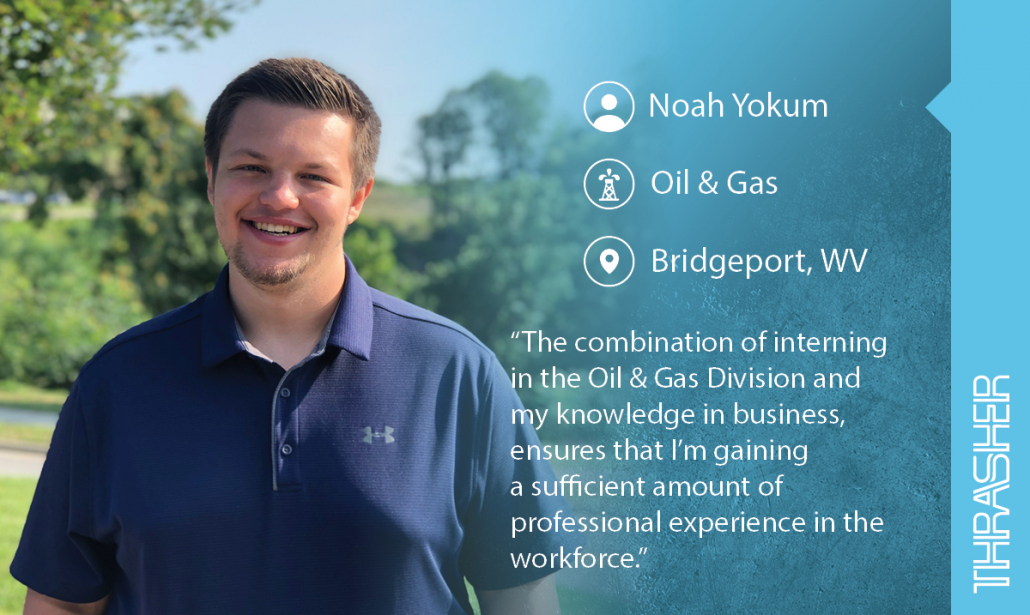 I decided to pursue a business career after being exposed to the diversity of coursework and the opportunities available in the professional field. The combination of interning in The Thrasher Group's Oil & Gas Division and my knowledge in business, ensures I'm gaining a sufficient amount of professional experience in the workforce. Throughout my two summers spent at Thrasher, I have worked on applications in AutoCAD, given different presentations, analyzed lineman sheets, read excel sheets, and revised project sheets. My favorite memory would have been working on a GIS project at the Canonsburg, PA office location last summer.
The atmosphere at Thrasher encompasses a hard work ethic and promotes a positive work environment. Additionally, the atmosphere allows me to get the most out of my internship and learn a lot of valuable information for my future career. As I enter my junior year at WVU, I have the confidence and knowledge to succeed in my studies and future career. When I'm not working or doing homework, I enjoy playing video games.
Jonathan Wright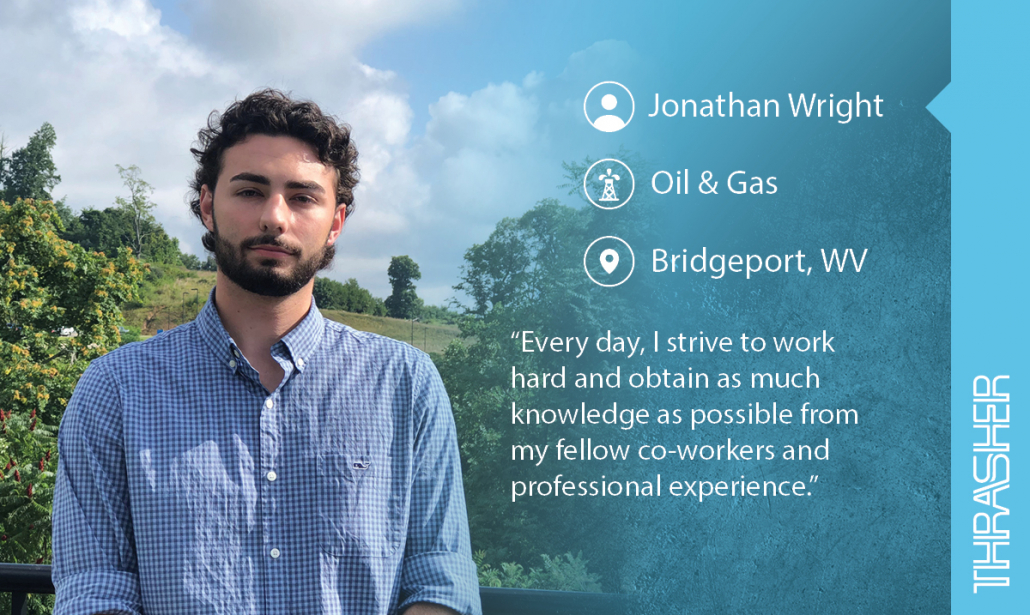 For the past two summers, I have learned many valuable skills and lessons interning at The Thrasher Group. Every day, I strive to work hard and obtain as much knowledge as possible from my fellow co-workers and professional experience. Currently, I have been working on several different projects in my division. I'm also refining my skills in Civil 3D and AutoCAD programs. One of my favorite aspects about working at The Thrasher Group is the family and instructive atmosphere.
A notable memory was building a miniature golf hole for Thrasher's annual company picnic. It was enjoyable to work on a creative project with my division and showcase our design. Thus far, my experience has been equally enjoyable and challenging, which has shaped me into becoming a successful engineer in my future career. Currently, I'm heading into my senior year at Fairmont State University pursuing a degree in civil engineering. I was inspired to pursue a similar field of study due to witnessing my best friend's father work in the construction industry.
Brent Cummings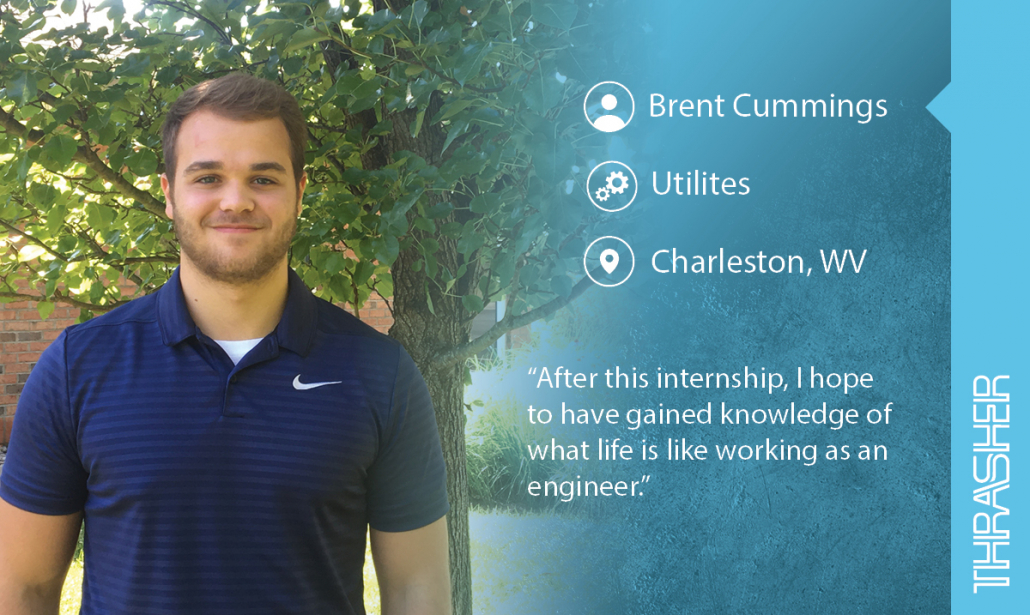 I have always been fascinated by rocket ships, aircrafts, and space, so when I figured out I could work in those aspects of engineering as a career I knew what I wanted to do. I found the perfect fit at West Virginia University because of their accredited engineering program and my love of WVU sports. Working as an intern at Thrasher, I have been involved in a wide array of projects. The most involvement I've had is in the Hamlin Sanitary Sewer project, where I have oversaw writing the PER and the Milton Source Water project where I helped with the grant package and SWPCP.
With this being my first engineering job experience, I did not know exactly what to expect. I was nervous that the work would be too advanced for my experience, but the people here have been very patient, understanding, and extremely helpful when I am given a task. I have learned many things already, as I had no prior knowledge of utility work. My favorite thing about working in the Utility Division is that there is seemingly always something new to learn and be a part of, allowing for a job that doesn't feel repetitive. I hope to enhance my skills in aspects needed for school such as writing, critical thinking, and discipline.
I would give anyone thinking of pursuing any type of engineering career to take as many high-level math and science high school courses as possible, especially calculus, physics, and engineering courses, if they are offered.
Torey Wright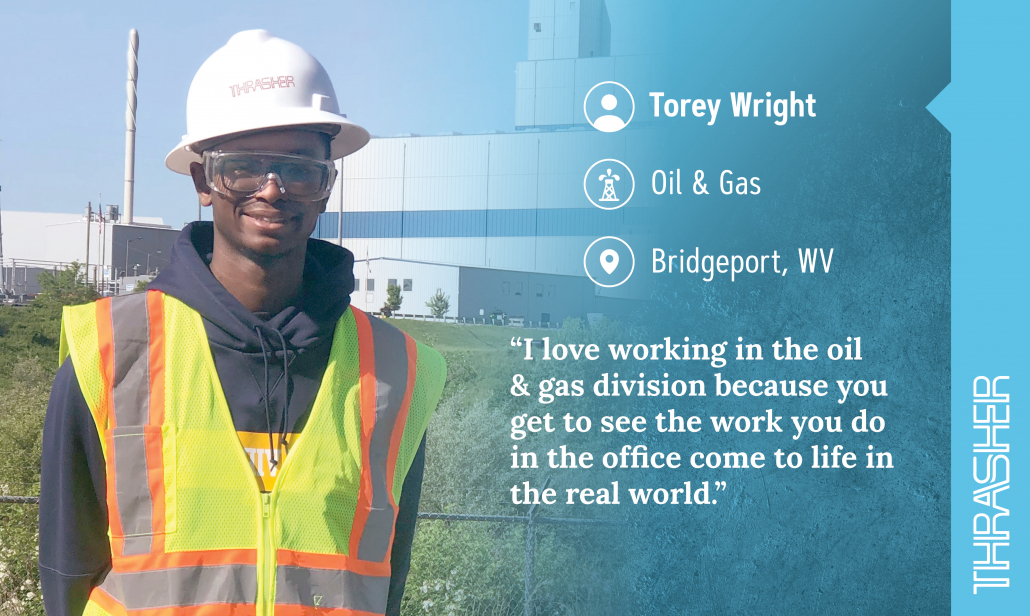 Growing up overseas in Dubai, I was exposed to engineering jobs in our community and they immediately inspired me. That is what pushed me to pursue a career in petroleum and natural gas engineering at West Virginia University with a minor in Arabic. When I first started Thrasher's internship program I was unsure what to expect and a little lost, but as soon as I got to know my supervisors and other employees I felt like I was already a part of the Thrasher family. Since then, I have been working on multiple projects and enjoyed every minute of it because of the relaxed, yet extremely diligent and hardworking environment.
I have been working with CAD, Google Earth, permits, oil & gas sheets, the process leading up to construction, DOH gates, and visits to compressor sites. My favorite thing is visiting well pads and compressor sites because you can see the work you do in the office out in the real world. This puts my job in perspective and makes me realize the impact I'm making on the community.
Since becoming an intern at Thrasher, I have been improving my people skills, internal and external communication, and developing the courage to ask questions when I need help. I have gained so much knowledgeable exposure of the daily challenges of an engineer. I hope in the future to become a project manager.
Kase Poling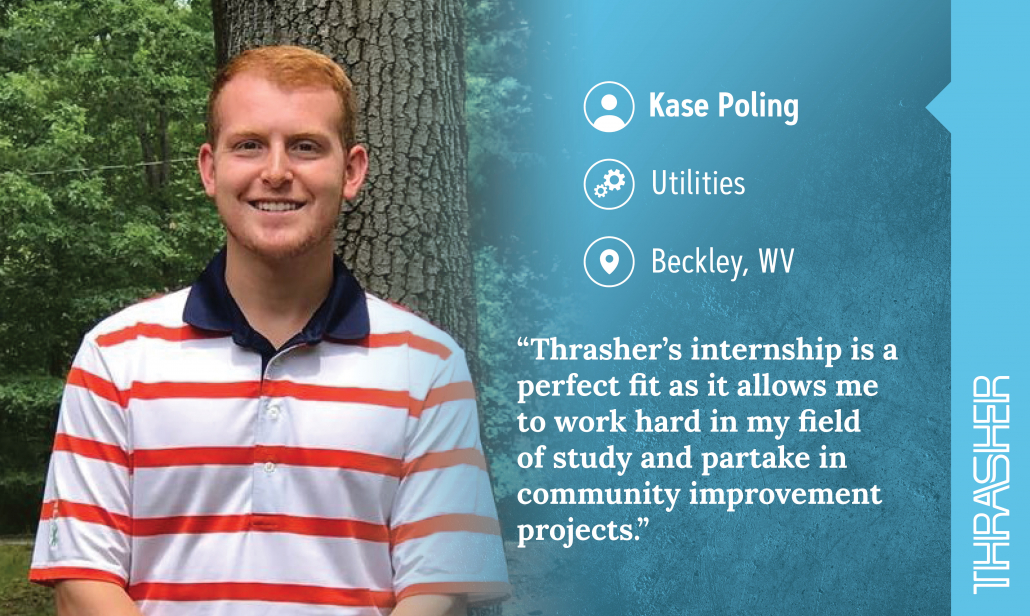 This summer, I have the pleasure to intern at The Thrasher Group in the Utility Division. A few of my responsibilities include cost estimates, site visits, and analyzing water shed boundary maps. While gaining experience in utility projects, I've learned the importance of background research prior to the commencement of an improvement project. Through Thrasher's internship program, I'm acquiring knowledge in local infrastructure, public works, stormwater systems, and CAD.
I chose to study at Virginia Tech because of the beautiful campus, great engineering program, and close proximity to my home. Initially, I wanted to attend law school so I could be a public servant. However, I gained a strong interest in engineering and have since discovered that I can serve the public as an engineer. My advice for anyone interested in a similar field of study would be to surround yourself with dedicated and passionate people, plan study groups, and prepare for late night study sessions.
Alexandria Richison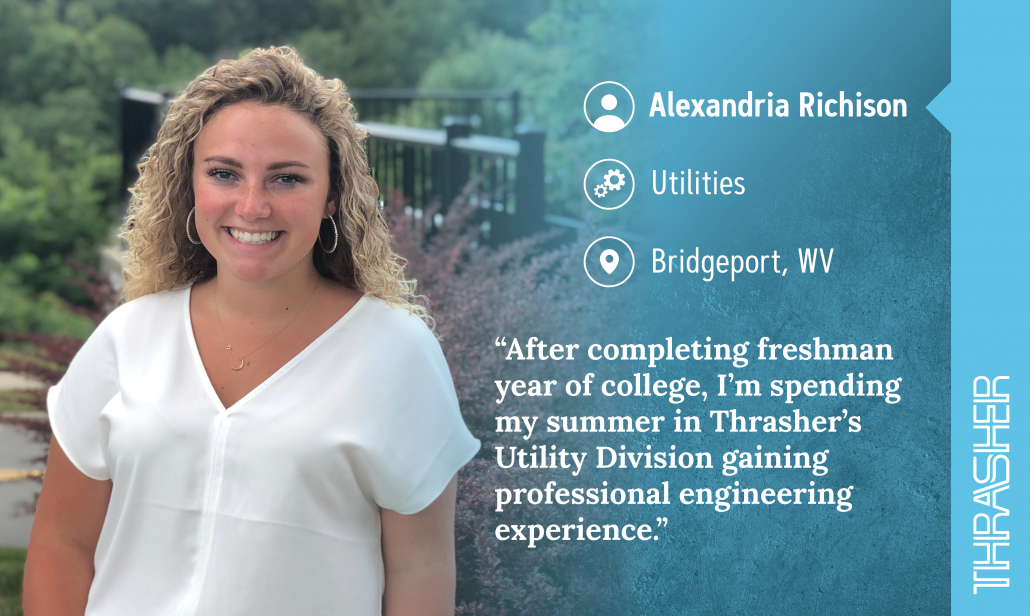 I'm excited to spend my summer as part of The Thrasher Group's Summer Internship Program in the Utility Division. While visiting Fairmont State University's campus, I was comforted with the feeling of 'home'. Growing up in Glenville, WV, and gradating with 61 fellow classmates, I was accustomed to the small class sizes. I chose to study civil engineering due to my interest in the STEM field. Before coming into Thrasher's internship program, I had recently completed my freshman year of college and was unsure of the expected skill set. Fortunately, my mentors in the Utility Division included me in projects such as water system upgrades, wastewater treatment plant upgrades, and sanitary sewer collection system improvements.
One lesson I have learned is textbook lessons do not constantly translate to real world application – a lot of projects require adaptability and creative solutions. Through Thrasher's internship, I have learned the operations of public utilities, technical writing, and the progression of projects. My favorite aspect about my division is visiting wastewater treatment plants, then identifying and constructing upgrades to the systems.
Ian Nichols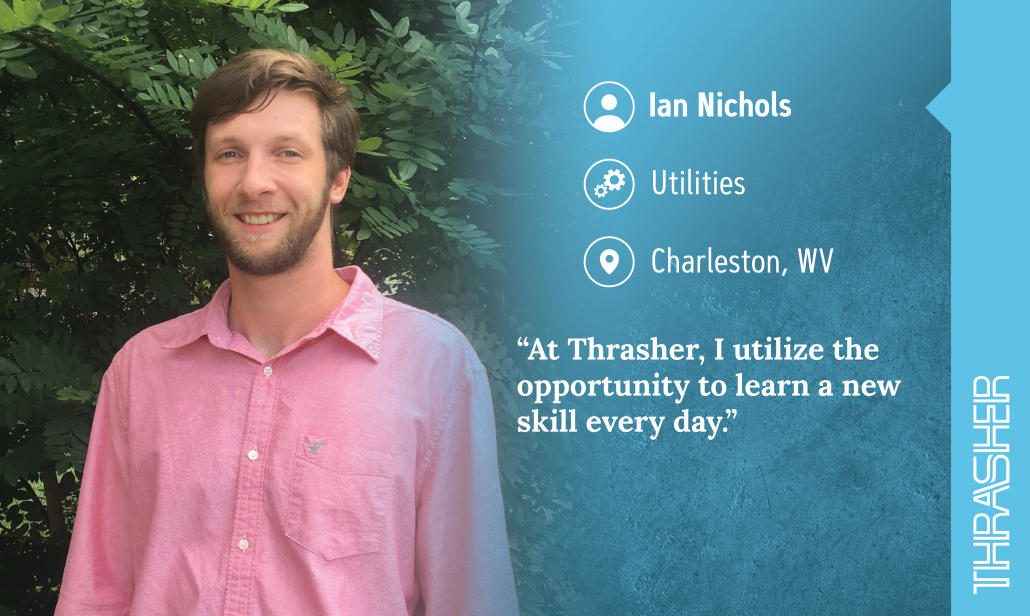 I'm excited to spend my summer at The Thrasher Group as an intern in the Utility and Environmental Divisions. While they are considered separate departments, many improvement projects require services from multiple divisions to get the job completed. I enjoy the opportunity to witness each division's responsibilities and how they operate together. A few of my daily tasks include revising reports and permitting, GIS mapping, wetland delineation, and updating sewer systems.
For my undergraduate degree, I studied Geology at West Virginia University. After earning my degree, I decided to pursue a Masters in Geological Engineering at Michigan Technological University. My advice for anyone interested in obtaining a career after graduation is to gain hands on experience and be flexible – use every day as an opportunity to learn a new skill. Outside of school and work, I enjoy snowboarding and spending time outdoors.
Anthony Imperial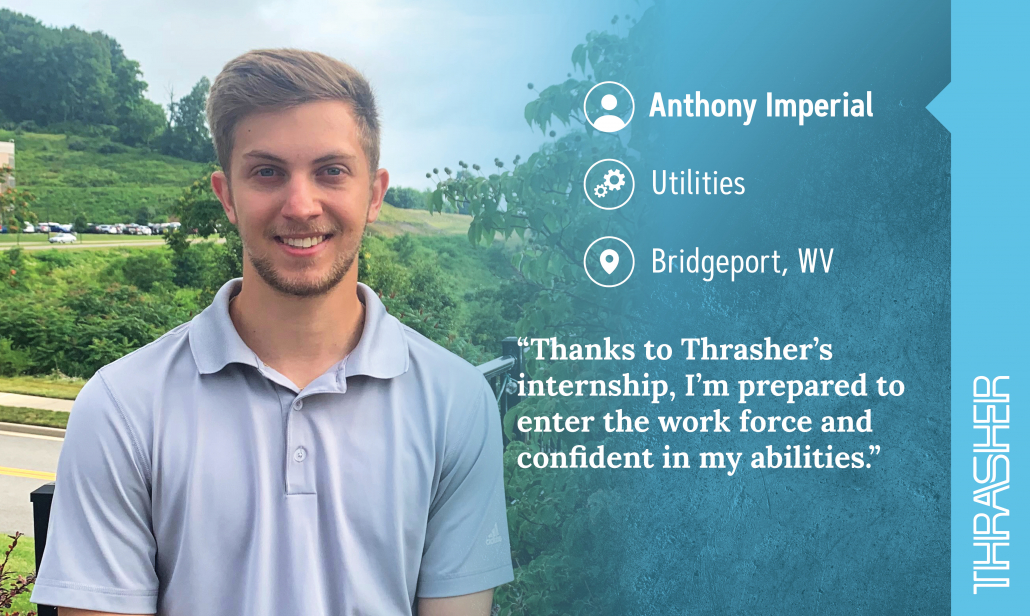 I always knew I wanted to attend West Virginia University; I have been a Mountaineer fan for as long as I can remember, and interested in their successful engineering program. While attending a career fair at WVU, I learned about The Thrasher Group's Summer Internship Program and became immediately interested. Before my first day, I was equally nervous and excited to start acquiring job experience. Everyone in the Utility Division was willing to help me adjust to the position and involve me in improvement projects.
A few lessons and skills I have learned are construction terminology, business application for engineering, cost estimates, quantity reports, and interpreting site plans. I've been involved in projects such as water line replacements and sewer system upgrades. My advice for anyone interested in pursuing a degree in civil engineering is to understand that it's going to be challenging but worth the effort. Thrasher's internship has prepared me to enter the professional engineering field after graduation.
Alex Harvey
I've had the opportunity to work as an intern at The Thrasher Group for the past two summers. Directly after high school graduation, I began the internship and entered my freshman year of college prepared with professional engineering experience. My first summer at Thrasher entailed learning about the engineering field, while this summer has involved understanding business application of engineering services and building upon fundamental knowledge. The utility mentors include me in various projects and address any of my concerns.
My advice for anyone looking into an internship would be to build mentor relationships – utilizing and learning from their expertise will help you flourish in the field. Currently, I've split my time between working on site and in-office. A few examples of my daily tasks include specifications, writing reports, quality checks, and site visits. Currently, I'm going into my sophomore year at West Virginia University studying civil engineering. The Thrasher Group internship has assured me that I'm on the correct career path and equipped with professional engineering experience.
Brenna Riley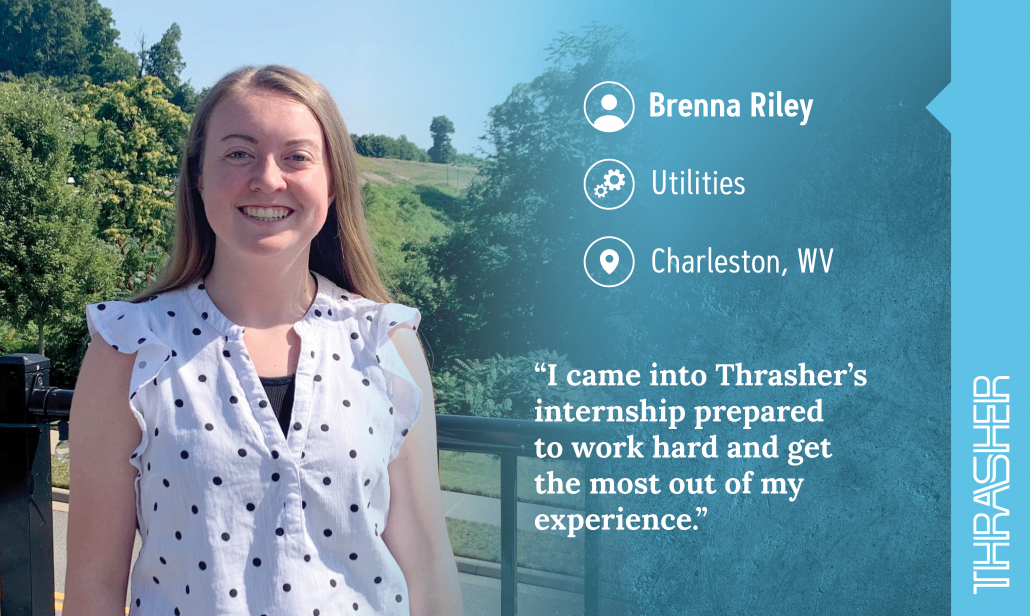 I'm excited to spend the summer as part of The Thrasher Group's internship program in the Utility Division. The utilities team has kept me busy with tasks such as water utility projects, reviewing preliminary engineering and quantity reports. With each project, site visit, and completed job I'm gaining valuable skills I can apply to my future career. One of my favorite memories was our office participating in the Charleston, WV annual Downtown Open. I enjoyed working with our team and creating a miniature golf hole for the local community.
The inner-workings of structures and machinery has always captivated me – the interest grew into myself pursuing a degree in mechanical engineering. My advice for anyone looking into studying engineering is to ask plenty of questions and prepare to work hard. I chose to study Mechanical Engineering at Virginia Tech to branch out and expand my professional network. My experience as an intern at Thrasher has been positive and rewarding!
Jarod Ringer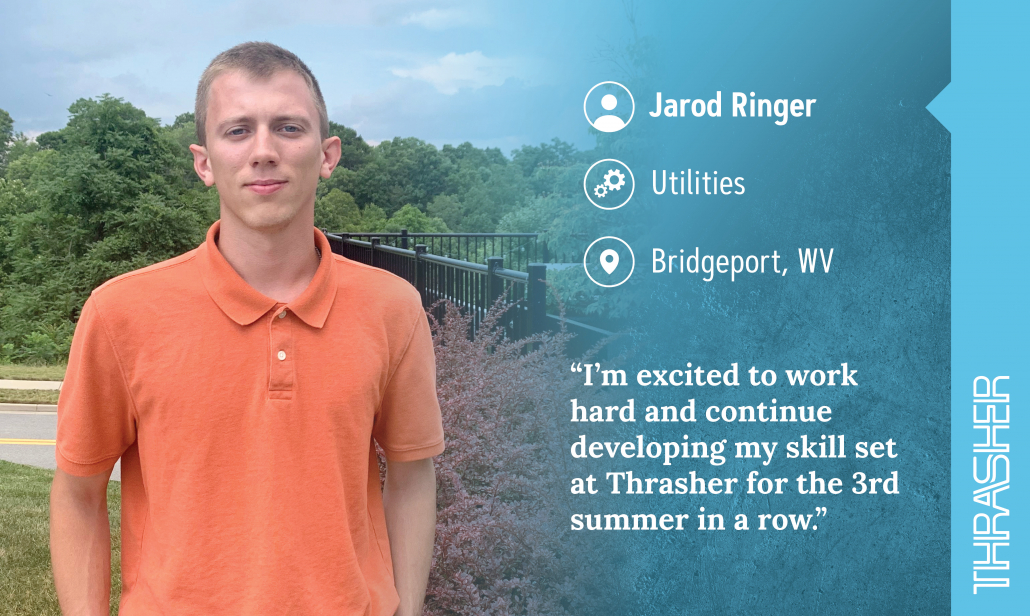 This is my third summer as part of The Thrasher Group Summer Internship Program in the Public Utilities Division. Every summer, I look forward to coming back to Thrasher and working to gain professional experience in my field. I reflect on my first summer as an intern – I was promptly thrown into projects and assisting with daily tasks. I would advise anyone apprehensive about beginning a new stage in their career is to learn from your mistakes and ask plenty of questions because that is how you improve.
A notable project I worked on was a wastewater treatment plant in my hometown, Bruceton Mills. It was exciting and rewarding to contribute to a local improvement project. My daily responsibilities include exploring options for engineering projects, visiting project sites, reviewing preliminary engineering reports and permits. My favorite aspects of the Utilities Division are learning from my mentors and getting to work with project teams, clients, and contractors.
---
https://thethrashergroup.com/wordpress/wp-content/uploads/2019/07/News-Image_OG-and-Utilities.jpg
1800
2400
Ashley Butler
https://thethrashergroup.com/wordpress/wp-content/uploads/2016/11/thrasher-logo-LARGE-02.png
Ashley Butler
2019-07-05 14:02:53
2019-07-29 16:11:30
2019 Utility and Oil and Gas Intern Spotlights