2019 Survey & Mapping and Geospatial Spotlights
Learn more about the 2019 #TeamThrasher Survey & Mapping and Geospatial Interns! Keep up with their experiences and find out what knowledge they are gaining from their #SummeratThrasher.
Brian Carson

I came into Thrasher's summer internship excited to learn as much as I could about surveying and equipment usage. I am currently a junior at Glenville State pursuing a Land Survey degree. I decided to go into survey because I love to be outside and enjoy doing hands-on jobs. Glenville State seemed like the best fit because of their reputable survey program and the close proximity to my hometown of Buckhannon, WV. The past two summers I've spent at Thrasher can easily be summed up into two words: learning experience.
This summer I got to work on property surveys, construction layouts, and dead research. I have gained more knowledge behind land survey equipment and developed my confidence in my field to overcome everyday challenges. This internship gave me the opportunity to implement what I learned in the classroom come to life in the field. I believe because of my experience I will be better not only in my field but whatever job I take on after graduation. I also really enjoy doing anything outdoors like hunting or fishing.
Morgan Clutter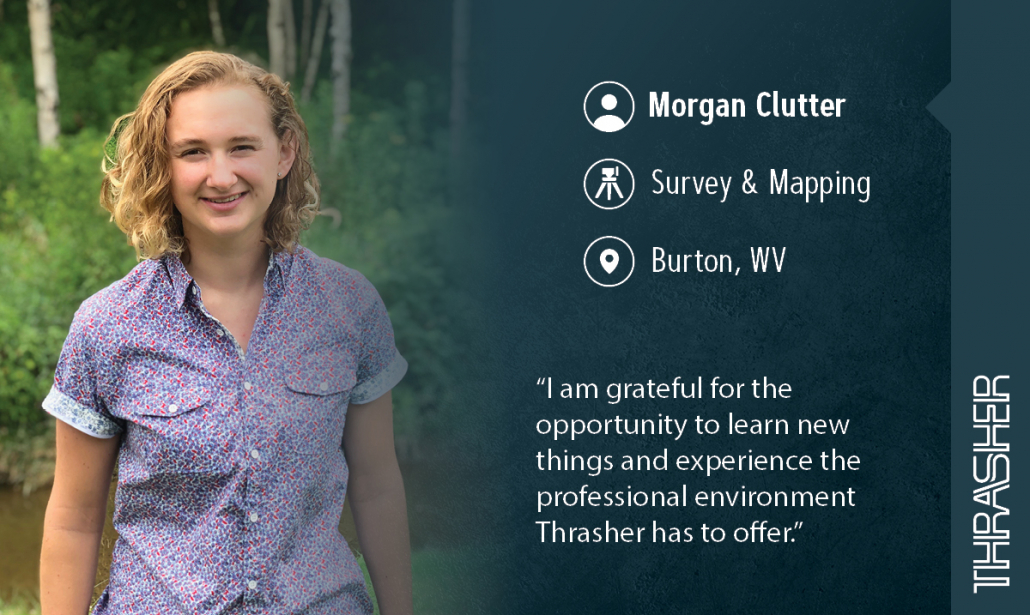 When I first enrolled in West Virginia University I had no idea they offered a landscaping architecture program. I discovered this program by mistake but knew I had found the perfect major to fit my passion. To me, landscape architecture has the complexity of engineering, creativity and design freedom. As soon as I learned about the internship at Thrasher I couldn't think of a more productive way to spend my summer. I was excited to be exposed to the professional atmosphere and learn new things.
I enjoyed my experience this summer and loved the work environment in the Burton office. I spent most of my time working on the spring flight project. I have been editing and reviewing the photos taken after they flew over 27 different counties and record an aerial view of the land. This is something I have never done before, so it is interesting to get this new experience. I am sad my summer internship experience has come to an end, but I am looking forward to the winter because I love to snowboard!
Zachary Hawkins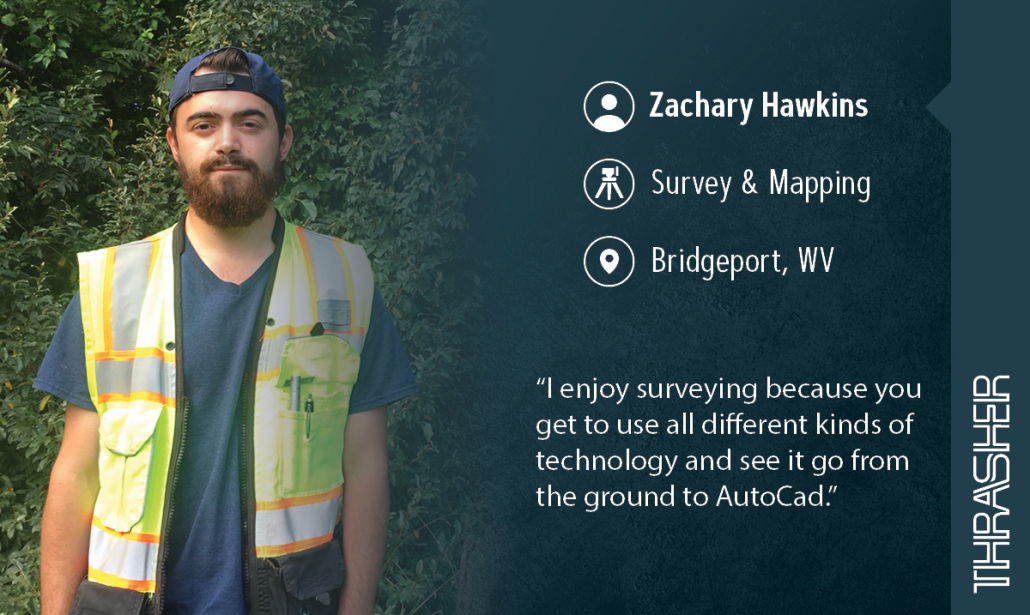 I started at Fairmont State as a civil engineering student because I was always interested in building things but when they added the survey program, I thought it would be a great compliment to my degree. I am currently a Civil Engineering Tech and Surveying and Geomatics Engineering student. The best advice I could give an engineering major would be to take advantage of internships to get as much field experience as possible before you work in an office.
While working for Thrasher I was able to take part in pipeline surveys, topographic surveys, boundary surveys, stakeouts, and assist running the equipment. The most memorable experience I had was working on the boundary surveys because I learned a lot and enjoyed doing them. Studying at Fairmont State, we use TopCon brand equipment so a big adjustment I had to make was using Trimble, the brand we use here at Thrasher. Because of this challenge I have gotten exposure to different equipment and have become more versatile because of it.
Seth Hoyt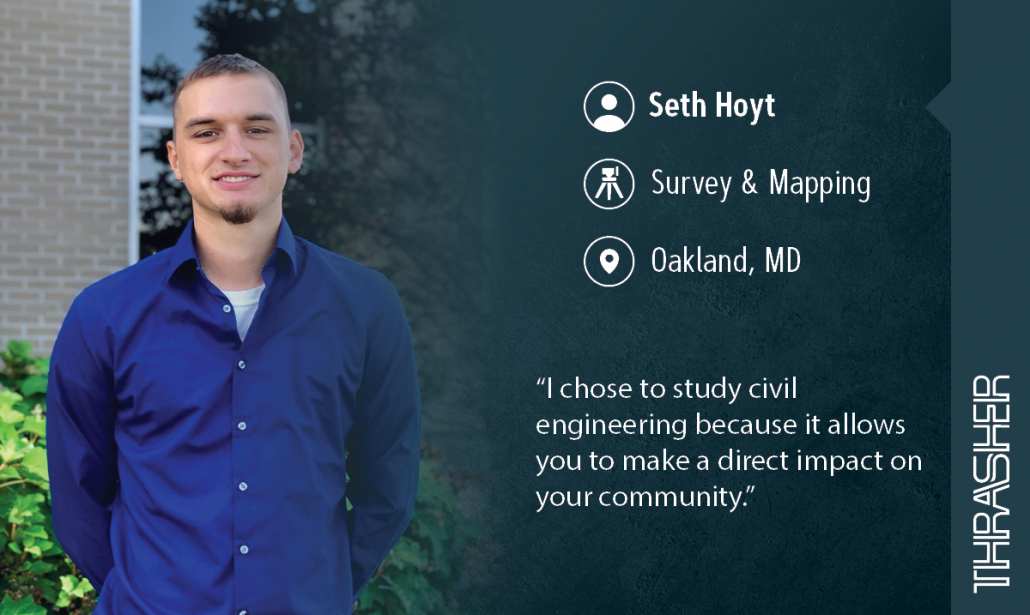 I chose to study civil engineering because it allows you to make a direct impact on your community. This summer I worked in Thrasher's Survey division which I enjoyed very much because we got to layout the land and then see the design of the final project. I was hesitant about having enough qualifications, but I was eager to learn new skills. This summer I worked on flood modeling, water sampling, residential sewer system designs, permitting, reviewing pipeline work, and surveying. I also learned a lot about storm water management.
Living in Moorefield, WV, I had challenge of having an hour commute to and from work each day. The drive was well worth the experience because I loved learning new skills and even working a little in site by being creative with property and contributing some of my own ideas to the project. I enjoyed going out in the field and surveying the land. I can see only growth in myself since I started working with Thrasher and I hope one day I can be a reliable employee like all my coworkers. In my free time I love to do is hunt and fish!
Jason Farry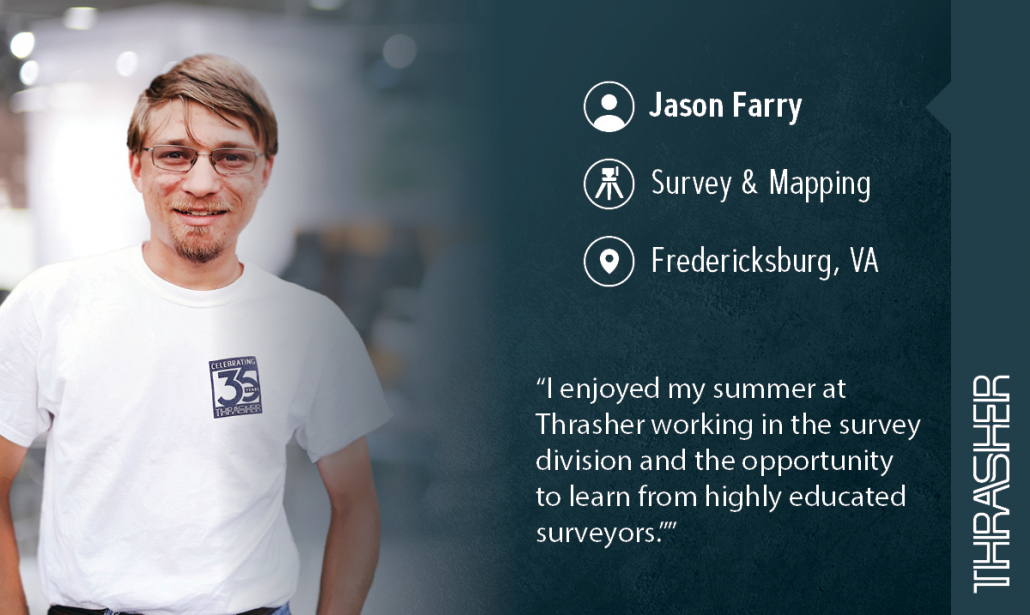 Growing up in a family of engineers, I knew from a young age that civil engineering would be a great fit for me and my interest of infrastructure and construction. I decided to obtain my education from Old Dominion University where I will be going into my senior year in the fall. My summer at Thrasher has consisted of sewer line inspections, house location inspections, and construction site stakeouts. I have also got to work on skills such as leveling circuits, using the data collector, and setting up the survey equipment.
Challenges are faced everyday but the biggest obstacle that I faced was cutting the brush away to get a clear enough picture of the land. I do believe that working with the survey division allowed me to learn when errors occur, witness everyday survey procedures, and retain basic knowledge to help me when using surveying in the future. I am very interested in classic trucks and enjoy remodeling them in my free time.
---
https://thethrashergroup.com/wordpress/wp-content/uploads/2019/08/News-Image_Survey-Mapping-and-Geo.jpg
1800
2400
Ashley Butler
https://thethrashergroup.com/wordpress/wp-content/uploads/2016/11/thrasher-logo-LARGE-02.png
Ashley Butler
2019-08-29 16:13:51
2019-09-13 16:02:16
2019 Survey & Mapping and Geospatial Spotlights