2019 Marketing & BD / HR / Safety Intern Spotlights
Learn more about the 2019 #TeamThrasher Marketing & Business Development / Human resources / Safety Division Interns! Keep up with their experiences and find out what knowledge they are gaining from their summer at Thrasher.
Harold Fair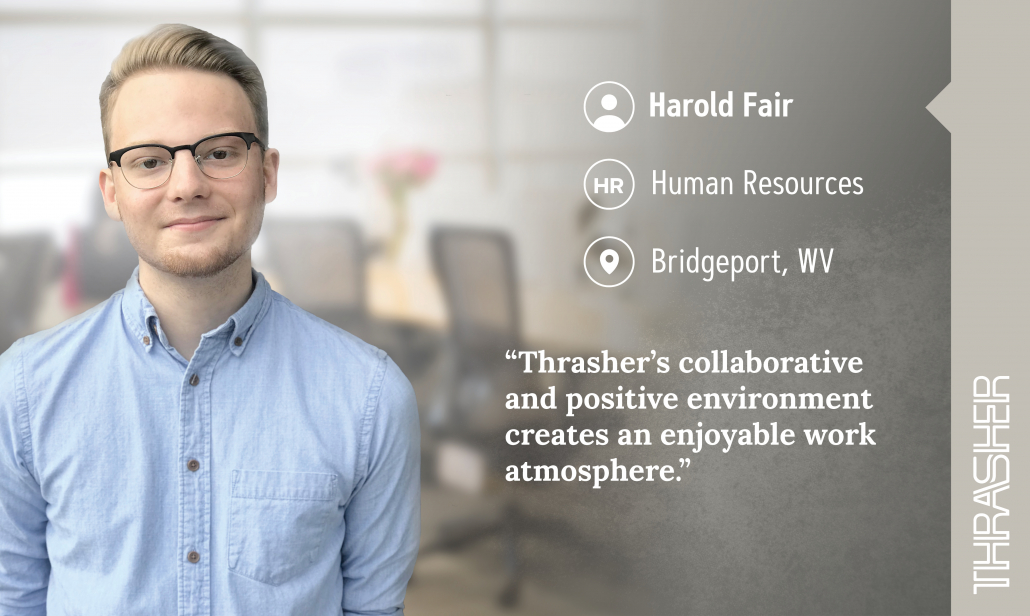 I began my summer accomplishing two milestones in my professional career: I graduated from Fairmont State University and accepted the opportunity to be a part of The Thrasher Group's Summer Internship Program in the Human Resources Department. I earned a Bachelor of Science in Business Administration with a concentration in Finance and a minor in French. Being an intern at Thrasher has allowed me to witness daily business operations and the application of the HR Department.

Thus far, my responsibilities have included evaluating job qualifications and composing career development training guides. Additionally, I've edited videos for internal company training and development sessions. Working in the HR Department has required me to exercise a combination of attributes such as professionalism, technicality, and creativity to successfully accomplish tasks. I really enjoy the collaborative and positive work environment at Thrasher.

At the end of the internship program, I hoped to have made connections with professionals in my field and gained skills I can utilize in my future career. In my free time, I enjoy traveling and studying languages. My passion for languages studies has led me to become fluent in French.
Steven Swiger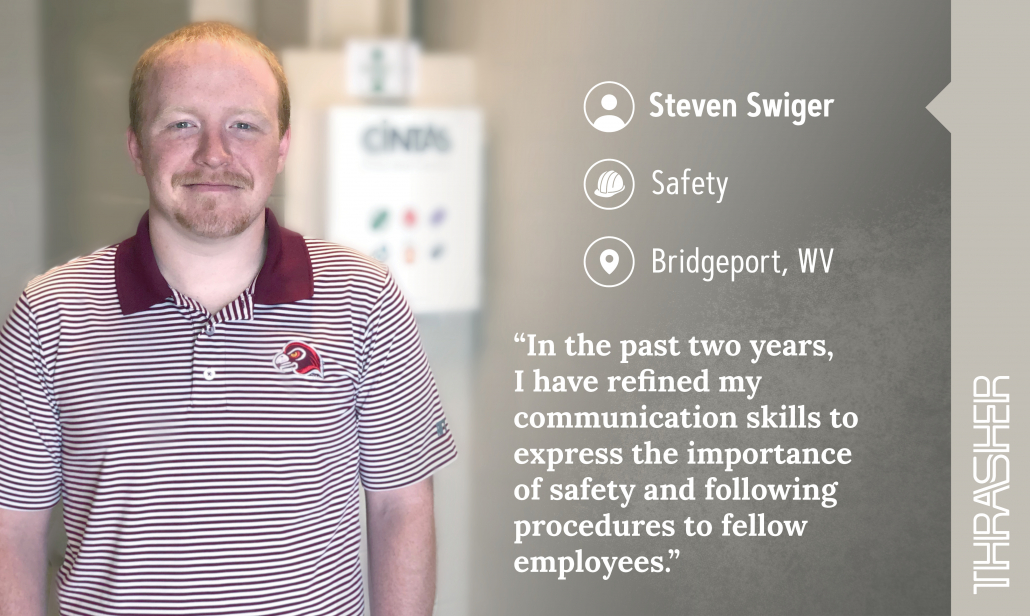 This is my second summer participating in The Thrasher Group's Summer Internship Program in the Safety Department. My daily responsibilities include completing OSHA 30 training, preparing PPE, evaluating project sites for possible safety concerns, and ensuring that safety procedures are met. I've had the opportunity to visit sites all over the state, such as Beckley, WV; Charleston, WV; and the massive WestRidge site in Morgantown, WV. 
Throughout my internship, I've picked up on vital skills to ensure success in my field. I learned how to communicate effectively with employees – it can be challenging at times to articulate the importance of safety and the possible dangerous outcomes that can occur at various sites and job operations.
This fall, I'm starting my senior year as an Occupational Safety student at Fairmont State University. I'm grateful to be finishing up my undergraduate degree with two years of professional experience. In my free time, I'm a local leader for WyldLife. Operated through Young Life, WyldLife is a program for middle school students. I enjoy applying my leadership skills to the position and fostering a positive environment for the students.
---
Casey Underwood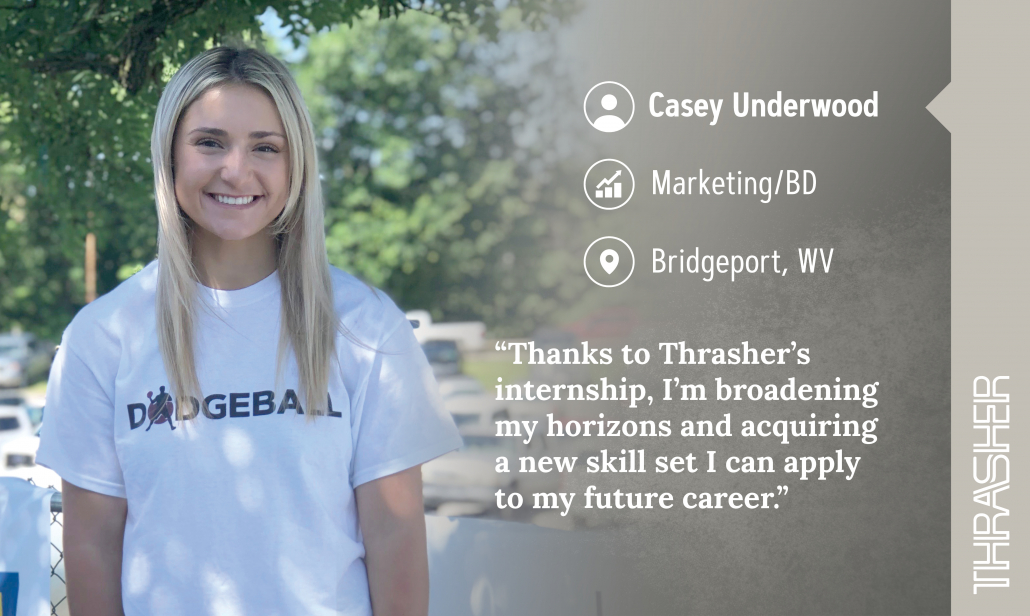 I'm spending my summer as part of The Thrasher Group's Summer Internship Program in the Marketing & Business Development department. The marketing team fostered a supportive atmosphere which allowed me to smoothly transition into the position. From day one, I was helping with event planning, internal communications, and creating social media posts.
Most of my efforts were focused on finalizing plans for the company-wide picnic, which occurred June 8th. There were many factors that needed to be in order from booking a band, communicating with all the office locations, planning activities and food, etc. It was rewarding to experience the success of the picnic and witness all the pieces come together.
Recently, I've been accepted into West Virginia Wesleyan College's Nursing Program. While I'm looking forward to beginning my career as a nurse, I'm thankful for the opportunity to broaden my professional horizons and work in a business setting. I never realized how essential marketing and business development is to a company until experiencing it for myself. Forming company campaigns and communications, internal and external, is a complex process that requires a lot of strategy. I'm looking forward to what the rest of the summer will entail!
---
Lyndsey Moran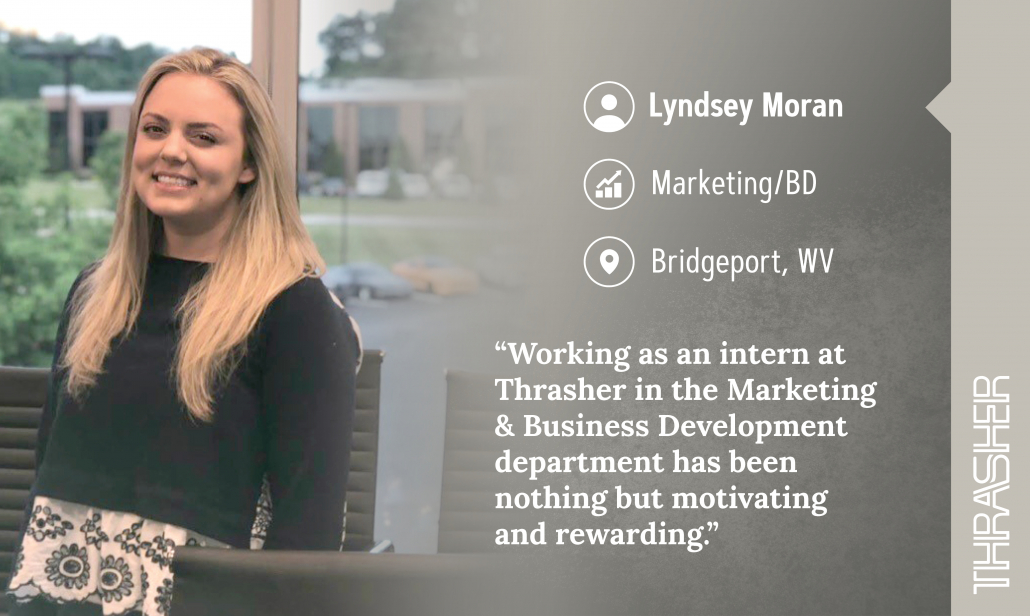 Before I began my internship at The Thrasher Group, I had no idea what to expect. I was unfamiliar with the industry but excited to apply my skills and studies to the job. The Marketing & Business Development team immediately included me in projects and answered any of my questions. An overview of my daily responsibilities includes helping with internal and external communications, content writing, social media writing, marketing campaigns, and event planning.  Recently, the marketing team has introduced me to composing proposals which has become my favorite task.
A notable memory thus far was visiting project sites in the Morgantown area to take photos and gather information for company use. I enjoyed talking to project engineers regarding their hard work and learning about the positive impact the developments will have on the community – observing and writing about local improvement projects is certainly the highlight of my summer.
I'm studying Strategic Communications with an emphasis in Public Relations at West Virginia University. As I finish my last semester of college, I feel prepared to enter the workforce because of The Thrasher Group's Summer Internship Program. I'm gaining professional experience and enhancing significant skills I can utilize in my future career.
---
https://thethrashergroup.com/wordpress/wp-content/uploads/2019/06/News-Image_Marketing-HR-and-Safety.jpg
1800
2400
Ashley Butler
https://thethrashergroup.com/wordpress/wp-content/uploads/2016/11/thrasher-logo-LARGE-02.png
Ashley Butler
2019-06-14 08:42:36
2019-06-19 17:02:33
2019 Marketing & BD / HR / Safety Intern Spotlights