2019 Architecture Intern Spotlights
Learn more about the 2019 #TeamThrasher Architecture Division Interns! Keep up with their experiences and find out what knowledge they are gaining from their summer at Thrasher.
Jeray Allen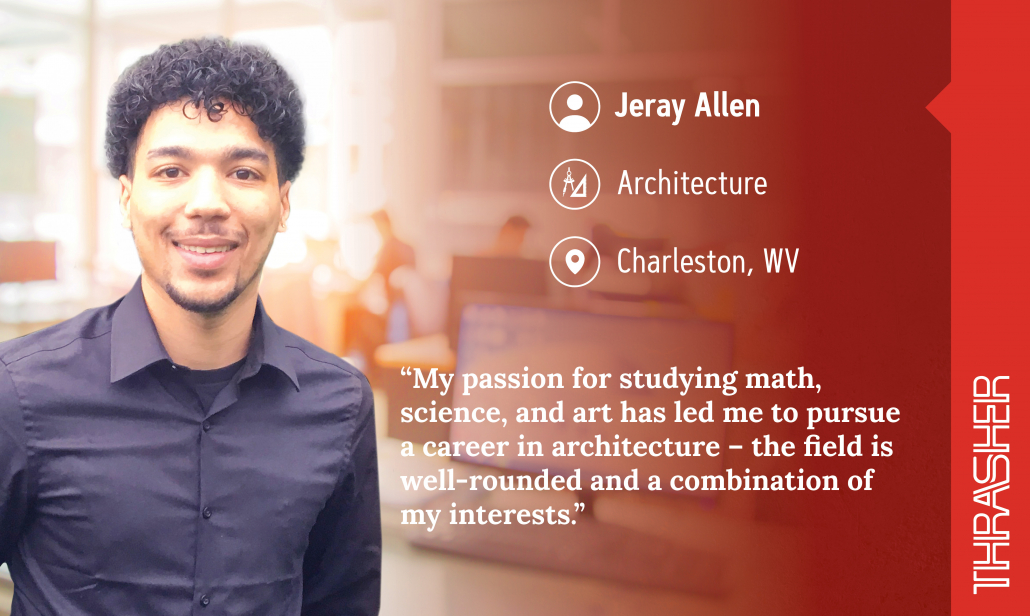 I'm excited to be a part of The Thrasher Group's Summer Internship Program in the Architecture Division at the Charleston, WV office. Throughout the summer, I plan to utilize this opportunity to prepare for my senior year at Fairmont State University and gain experience for my future career in architecture.
My advice for anyone interested in a similar field is to immediately start gaining professional experience. At Thrasher, I'm refining my skills in Revit and evaluating and generating cost estimates of possible renovations for local schools. Currently, my favorite task is visiting project sites and gathering information to draft renovation plans.
From a young age, I knew I wanted to a pursue career in architecture. The field is a perfect combination of all my interests: science, math, and art. In my free time, I enjoy creating artwork such as murals and portraits. My time in the internship program has been equally challenging and rewarding. Thrasher's architecture team fosters a family atmosphere – they are always willing to help me working through challenges and answer any questions.
---
Cendall Cowan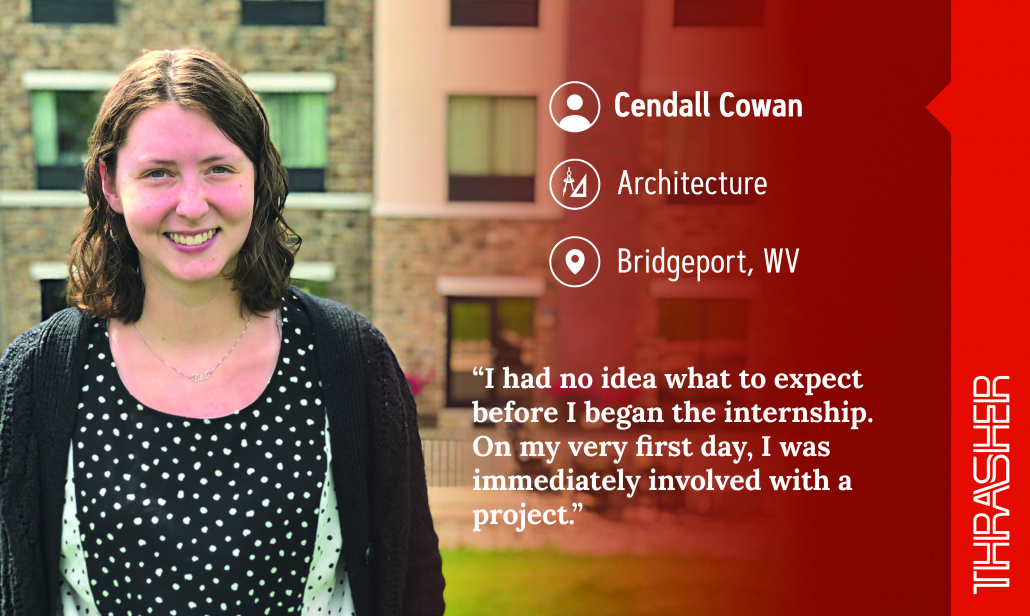 My first day as an Architecture intern at The Thrasher Group, I was immediately involved with a project. I designed a rendering of a high school stadium press box. The goal was to improve the donor displays for the sports facility. The architecture team provided me with the resources and assistance to successfully execute the project.
The motive behind choosing my field of study orientated from growing up in Braxton County. I envisioned so much potential in buildings that were rundown, including one that unfortunately caught fire. I believe the local community would benefit from structural renovations and infrastructure improvements.  From that moment on, I was determined to pursue a career in architecture.
My advice for someone who is interested in studying architecture or entering a similar field, don't doubt yourself – focus on improving and learning, rather than insecurities. I'm looking forward to working hard at Thrasher this summer!
---
Brandon Roach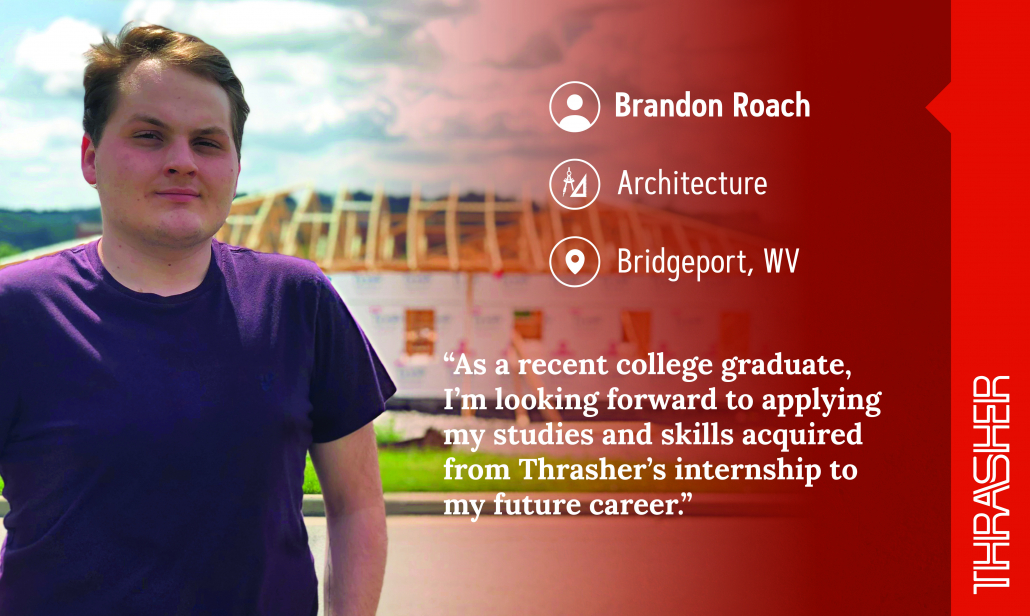 "Through Thrasher's Internship Program, I'm gaining experience in the business application of architecture and design. I've had the opportunity to work on projects that resulted in community improvement. As a recent college graduate, I'm looking forward to applying my studies and skills acquired from Thrasher's internship to my future career."
This will be my second summer as part of Thrasher's Summer Internship Program in the Architecture Division. Last year, I had the pleasure working in the Charleston office and transferred to the Bridgeport location this summer. Thrasher's architecture team did not hesitate to get me involve with projects, which allows me to gain hands on experience. Currently, I'm designing emergency exit plans for an elementary school and updating a courthouse entrance ramp and stairs.
When I began the internship, I recall adjusting to the business application of architecture. In the academic setting, the design aspect is free flowing – you can create various layouts with any material you desire. However, in the business setting it is important to focus on the client's goals and budget.
Recently, I graduated magna cum laude from Fairmont State University with a bachelor's degree in architecture. My goal is to enter the architecture field, ready to apply my studies and the skills I have developed from the internship program. My advice for anyone who is looking to pursue a similar field and working to gain experience would be to not be afraid to ask questions. Thrasher's architecture team has been willing to help me out and ensure that my success will continue into my professional career.
---
Summer Skidmore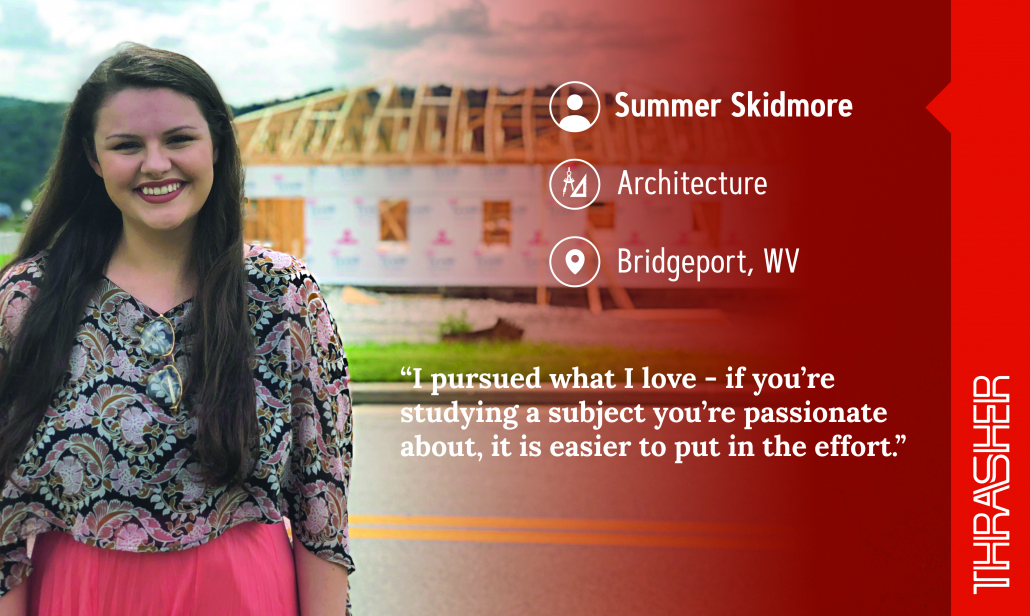 I'm excited to be a part of The Thrasher Group's Summer Internship Program in the Architecture and Marketing & Business Development departments! Between each department, I've been busy taking/editing photos for social media posts and working on architecture designs in Revit. Currently, I'm gathering 60 years' worth of various plans of a church in need of renovations. After assembling the blueprints, I plan to generate a cohesive layout of the church for the project to proceed.
Thus far, my favorite memory at Thrasher was the opportunity to visit three different project sites in Morgantown, WV. While it was nice getting out of the office and taking pictures with the marketing team, it was eye opening to witness the progression of the projects. All the divisions work as a team to successful complete the projects, each having their own responsibilities to contribute their services. Through Thrasher's Internship Program, I hope to have gained experience in architecture projects, acquire more confidence in myself and my work, and interact with professionals who work in a similar field.
Presently, I'm studying Interior Design, Landscape Architecture, Sustainable Design, and English at West Virginia University. Next semester, I'm traveling abroad in Canterbury, England at the University of Kent and studying Engineering and Digital Arts. By applying my studies, remaining flexible and open to new information, Thrasher's internship is providing myself with the experience to be successful in the professional field.
https://thethrashergroup.com/wordpress/wp-content/uploads/2019/06/News-Image_Arch.jpg
1800
2400
Ashley Butler
https://thethrashergroup.com/wordpress/wp-content/uploads/2016/11/thrasher-logo-LARGE-02.png
Ashley Butler
2019-06-03 16:36:49
2019-06-11 11:25:54
2019 Architecture Intern Spotlights