After 38 Years Monte Fike is Hanging Up His Hard Hat!

After a long and successful career with The Thrasher Group, Monte Fike will be hanging up his hard hat for the last time today. Monte joined the Thrasher team back in August 1984, as one of the first 10 employees of the company. He has stayed with Thrasher throughout his entire career and has left a lasting impact on not only the people he interacted with, but on the company as a whole.
Monte has truly made a mark on every Thrasher employee who got the privilege to work alongside him. It seems every current and former #TeamThrasher member is able to quickly recall their first job with Monte, whether it was 38 years ago or just the other day. They could all agree that every time you worked with Monte, you knew your project would run smoothly.
"You could always count on Monte to approach every situation with commonsense," said Randy Watson, Senior Project Manager and long-time friend of Monte's. "That went for whether we were on a job site or off the clock on vacation somewhere – you could always count on him to work out any problem."
That strong level of reliability was one of the mainstays of Monte's personality and evident through every aspect of his life.
"Monte is a symbol of dedication. He has stuck by Thrasher from the five employees we once had to the 300+ we have today," said Ken Moran, retired Principal Engineer.
His dedication helped not only his own work, but those around him, too.
"An engineer is only as good as the people in the field," said Moran. "Every firm needs a guy like Monte on the team to make their plans succeed beyond expectation."
Not only that, Monte's immense experience and passion for sharing his knowledge allowed newcomers to the company to see the possibilities that lie before them. One of the many Thrasher employees that holds true for is Project Engineer Ryan Holcomb.
Ryan joined Thrasher five years ago as part of the Construction Services team and instantly clicked with Monte, looking up to him as a mentor. He saw the dedication Monte had put into Thrasher and quickly learned the value of his opinion. So, when faced with uncertainty about what to do with his future, Ryan went to Monte. With Monte's trusted input, Ryan opted to go back to school to get his bachelor's degree in civil engineering and is now a registered Engineering Intern. To this day, Ryan tries to mirror Monte's ability to develop and maintain strong relationships with those around him.
Besides Monte's ability to always be there for his coworkers, he has a true knack for building partnerships with his clients. A key skill in this industry, this ability did not go unnoticed.
"He has a great way with his clients and always had the client's best interest at heart," said Dan Ferrell, Senior Project Manager. "Monte approached every job with a 'can-do, how are we going to get this project built' attitude and people appreciate that."
Monte contributed 38 years of excellence to Thrasher and his achievements will not be forgotten. Congratulations on your retirement Monte, and an even bigger thank you for helping shape Thrasher into what it is today!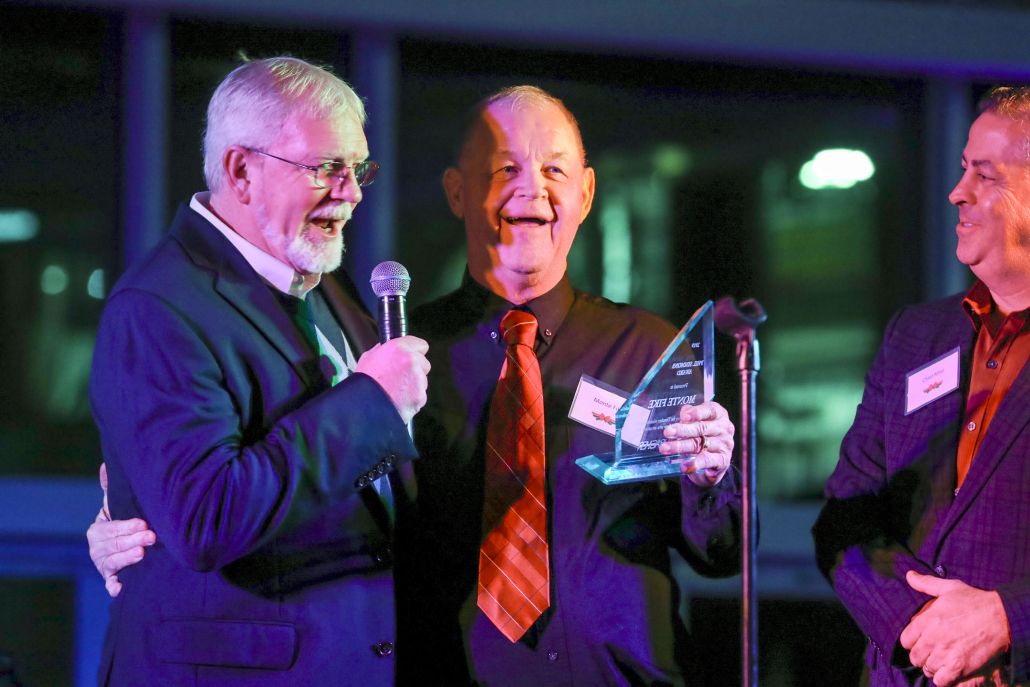 https://thethrashergroup.com/wordpress/wp-content/uploads/2022/06/MicrosoftTeams-image-105.jpg
1500
2100
Anjelica D'Annunzio
https://thethrashergroup.com/wordpress/wp-content/uploads/2016/11/thrasher-logo-LARGE-02.png
Anjelica D'Annunzio
2022-06-03 14:44:08
2022-06-03 14:44:13
After 38 Years Monte Fike is Hanging Up His Hard Hat!