National Architecture Week 2019 has arrived! This week is dedicated to celebrating architects positivity impacting their communities through their work, community outreach, and dedication to architecture education. Check back on Thrasher's social media pages throughout the week for #AskTTGArchitecture segments and fun project and employee highlights!
4/27/19 – Architecture & Technology
What happens when you combine #TeamThrasher's Architecture and Survey Divisions? Advanced technology and better client understanding!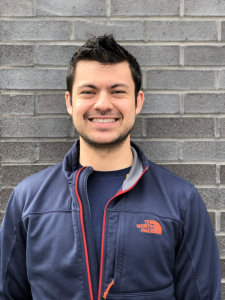 Erik Thornberg, LiDAR Technician, has been working closely with our Architecture Division by using 3D scanning to scan and model buildings before, during, and after construction. Erik starts by scanning the site or building of the project. After all the points are collected, he uploads the data into a software system for processing. Through this software, he can create point clouds – millions of points that allow you to take measurements for everything from the length of a wall to the diameter of a tree. He can also add photo overlays which allow the architects and clients to see the real-world view. Additionally, Erik can also provide as-built data and information on everything at the site, including gas, water, and power lines; curbs; sidewalks; and a variety of other things.
Erik then hands off the information to Thrasher's Architecture Division. They use his work to create a model of an existing building to start developing more detailed components of the building and can be used to create virtual reality models. This provides an easier channel of communication and decision making for clients by giving a visual of what the designs are going to look like. Through virtual reality, clients and architects can walk through a building before it is even completed.
4/26/19  – Equity, Diversity, & Inclusion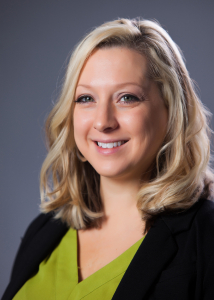 Amanda Cheuvront, AIA, NCARB
Amanda Cheuvront is a highly talented project architect with a portfolio ranging from small interior renovations to large campus planning endeavors. Over the past decade, Amanda has been involved with numerous commercial building and healthcare projects and specializes in educational facility design. Her experience has included all facets of project development, including client relations, design proposals, presentations, programming, project coordination, marketing, feasibility studies, and construction administration. Her versatility and knowledge working throughout the Mid-Atlantic region make her a great manager and a powerful addition to #TeamThrasher. We sat down with Amanda for a Q&A on her role, her passion and advice.
What does an average day look like for you?
"One thing I love about my job is every day is different. My responsibilities are getting a project from an initial idea, to design, through construction. That involves meeting with clients throughout all phases, initial designing and developing construction documents, and overseeing the project during construction. As a project manager I coordinate all other disciplines and consultants involved. "
What do you like most about being an architect?
"I like how rewarding it is to feel you've enhanced people's lives by improving their space."
Why did you choose the architecture route?
"I grew up watching my dad, a talented craftsman, renovate and construct. He inspired to want to design and create. I am not a craftsman but had a talent for visualizing space. I realized, at a young age, architecture would be the best career path to pursue."
What would be your advice to those pursuing a career in architecture?
"My advice for young architects, women in particular, wanting to pursue a career in architecture: there are now more women in architectural school than men, but this is not the case at all in practice. Stick with it. Be confident. Believe in yourself or no one else will."
4/25/19 – Civic Engagement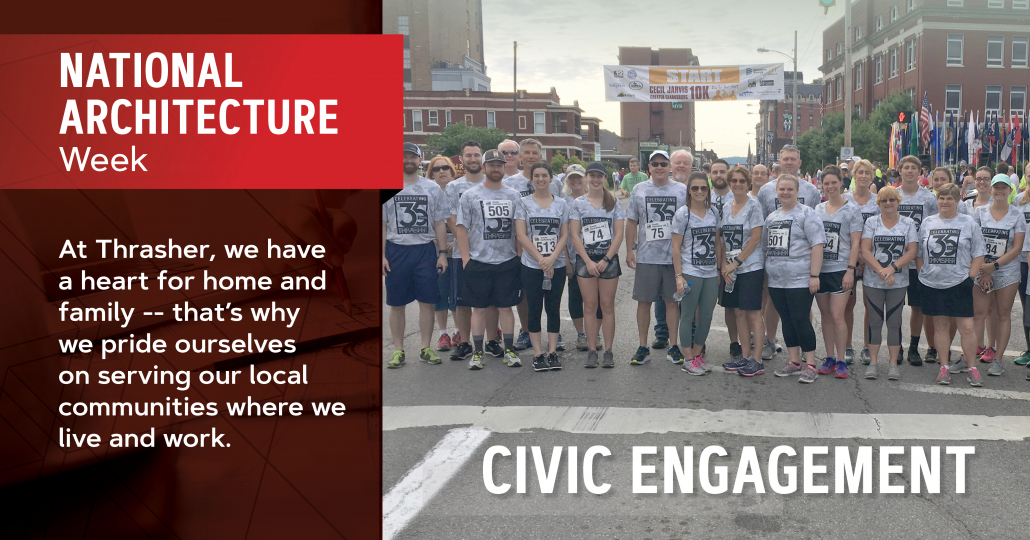 At Thrasher, we have a heart for home and family — that's why we pride ourselves in serving out local communities where we live and work. Whether we are running a fundraising 10K, donating canned food, or collecting Angel Tree presents; #TeamThrasher seeks to give back. Our Architecture Division is involved of many community outreach programs from hosting Heart Walk breakfast fundraisers, being involved in United Ways, educating youth at local schools, and promoting a healthy lifestyles through 10K programs and runs. 
Harrison County United Way Emerging Leaders
Our Architecture Division is full of professionals with a passion and excitement to give back. With nine Harrison County United Way Emerging Leaders from Thrasher as whole, four of those members hail from architecture. Josh Lyons, Ashley Lyons, Marsha Benson and CJ Smith are part of a program created to get young people more in involved in their local communities. These individuals help create, plan and execute community impact initiatives throughout Harrison County. The group is comprised of 30 young leaders living in Harrison County. They attend monthly meetings where they discuss topics and produce fresh new ideas for upcoming projects. We are proud of our young team members stepping up to improve their local communities.
American Institute of Architects
Our Architecture Division is heavily involved with the AIA West Virginia Chapter. Our entire Charleston, WV office participates in CANstruction, an innovative and fun design/build competition dedicated to ending hunger. The Thrasher Group has been involved with this great event for the past six years. This year, the event raised over 2000 pounds of canned food.
AIA Safety Assessment Program
In March, Joe Sinclair and Amanda Cheuvront from the Charleston Office, attended and passed the AIA Safety Assessment Program training. Through this program, Joe and Amanda will be trained, ready and able to assist communities in assessing buildings after a natural disaster. Having this training will allow them to give back to their community in the aftermath of a natural disaster. To learn more about the program, visit the AIA Safety Assessment page.
4/24/19 – Architecture Education
#TeamThrasher architects strive to improve communities through design and in inspiring the youth to pursue careers in Architecture.  Almost all of the members of our Architecture Division have sat on Design Critiques, advised students in a college program, attended a career fair, or been an adjunct professor at a local college. Currently, we have four adjunct professors teaching at Fairmont State University and BridgeValley Community and Technical College. The Fairmont State University: Department of Architecture + Graphics:  Architecture Program has the only Architecture program in the state of West Virginia comprised of a 4-year Undergraduate Degree with 1 1/2 year Graduate Degree. All of our adjunct professors and other team members also participate in Design Critiques of student's final projects at FSU on a regular basis.  We are proud to be so involved in the only Architecture program in the state!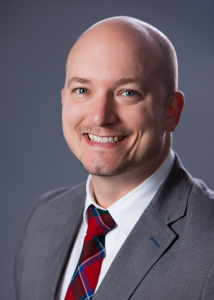 Joe Sinclair, AIA, NCARB, LEED AP BD+C, CDT, Adjunct Assistant Professor of Architecture
Joe Sinclair, Architect and Project Manager, has not only taught classes at Fairmont State University, but created a program at BridgeValley Community and Technical College. During his time at Fairmont State, Joe taught Building Technology II and Sustainable Design. In 2010, he created a 2-year Construction Management Program at BridgeValley Community and Technical College as the Program Director at the college. Joe created all the classes, curriculum, and selected the class books. Although Joe has returned to working full time as an architect, he still teaches adjunct for the program. Joe teaches because, "I enjoy sharing information with those who seek it. The impression you unknowingly make on a student can be profound and long-lasting".
To learn more about this program and the classes taught, please visit the BridgeValley Community and Technical College website.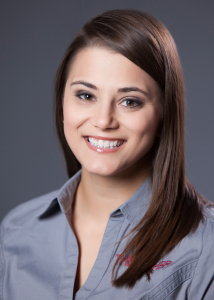 Ashley Lyons, Assoc. AIA, PAC for NAAB Accreditation Program
Ashley Lyons, an alum of Fairmont State University, has taught the Design Fundamentals 1 and Design 1: Foundation courses at the college. Ashley is not only an adjunct profession but is part of the Professional Advisory Committee (PAC) for the NAAB Accreditation Program. The Fairmont State University, Department of Architecture + Graphics is in candidacy for accreditation of the following NAAB – accredited degree program. Getting to be involved in this process allows local and regional students to pursue their careers in Architecture while giving back to her state. We can't wait to see what Ashley will accomplish on the PAC.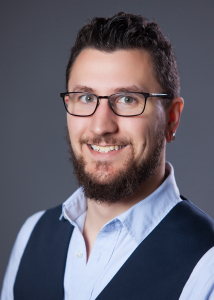 Josh Lyons, AIA, NCARB, LEED AP O+M, WELL AP, AXP Licensing Advisor
Josh Lyons is an adjunct professor at Fairmont State University for Design Fundamentals 1 and Sustainability Design. Not only does he teach, but he is an NCARB Licensing Advisor. NCARB is an organization that helps to develop and administer national programs for licensure candidates and architects used to regulate architecture within their jurisdiction.  Josh is dedicated to helping advise students to pursue and reach their professional goals.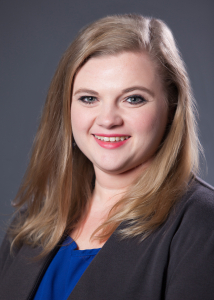 Marsha Benson, AIA, LEED GA, Adjunct Instructor of Architecture
Marsha Benson, an alum of the Fairmont State University Architecture Program, has taught Design Fundamentals II. Design Fundamentals II is a design course focused on the Digital Representation through various computer programs. Marsha is also involved in helping education a much younger audience on the importance of Architecture. Recently, Marsha attended a local 8th Grade Career Fair where she taught students about virtual reality and architecture. The students were given a hands-on educational experience on virtual reality by "walking-through" a building the Architecture team designed. Marsha says, "I like to teach because teaching allows me to collaborate with the creativity and energy of students, while instilling true insight and responsibility in the minds of future architects."
To learn more about Fairmont State University's architecture program, click here.
4/23/19 – Affordable Housing
Our #TeamThrasher architects have been passionate about creating affordable housing for our local communities. Lee Gustafson has been a main contributor to our affordable housing projects, including our most recent building, Seneca Village in Morgantown, WV. Find out more about Lee, other affordable housing projects, and the Seneca Village overview below!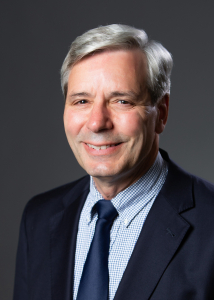 Lee Gustafson, AIA, NCARB
Lee Gustafson, AIA, NCARB is a tenured Project Architect with nearly 37 years of experience in project design and management. Lee has built a highly diversified portfolio of work throughout his career which includes affordable housing projects, historical restoration projects, academic facilities, athletic complexes, healthcare facilities, retail/commercial spaces, government and community buildings.  His ability to help secure USDA funding, Section 8 and other grant funding has  allowed him to have success in many of his affordable housing projects. Lee's expansive range of projects has challenged him to stay up-to-date on architectural trends to create cutting edge, eco-friendly designs that are feasible within budgetary and timeline constraints. 
Lee's experience with affordable housing projects:
HUD Single Family Housing – 7 homes for Clarksburg Housing Authority
HUD Duplex Housing – several duplex apartment buildings throughout Clarksburg
24 Unit Cortland Acres Nursing Home –  Thomas, WV
24 Unit Whipkey Manor Apartments –  Morgantown, WV
16 Unit D&L Apartments – Morgantown, WV
8 Unit Whipkey Apartments – Morgantown, WV
11 "Mini 8" Apartment Buildings –  Various WV locations
24 Unit Grant County Housing – Petersburg, WV
24 Unit Pendleton County Housing –  Franklin, WV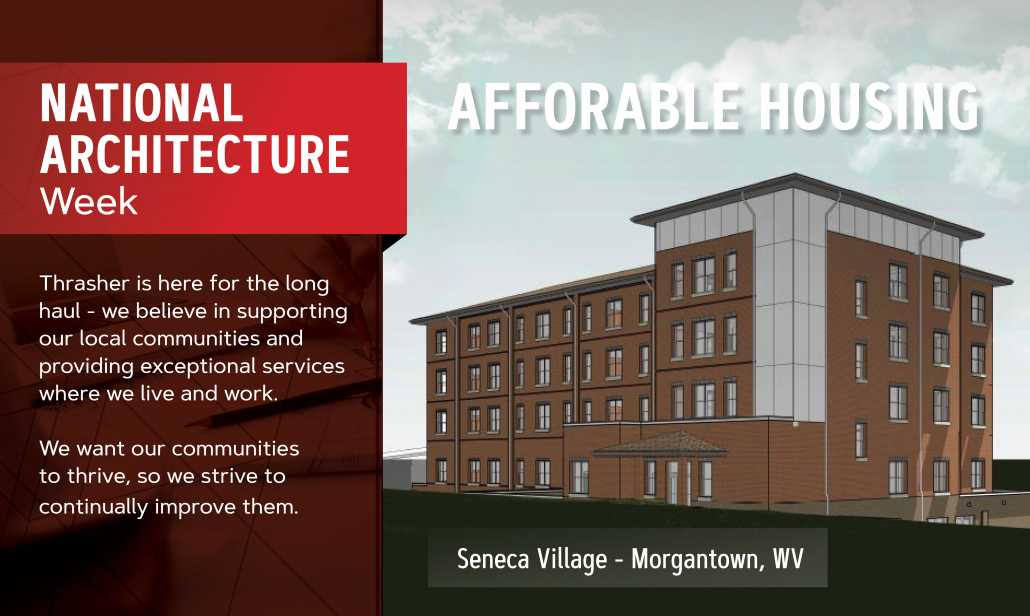 Project Highlight – Seneca Village – Morgantown, WV
The most recent affordable housing #TeamThrasher project is Seneca Village in Morgantown, WV. The construction on this apartment complex was recently completed at the Seneca Center. The building consists of four floors of one and two bedroom apartments on top of a ground floor parking garage. This project allows Morgantown, WV to broaden their demographics beyond student housing due to Seneca Village's age restriction of 55 or up and affordable rent choices. The Thrasher project team included: Craig Baker, Lee Gustafson, Kenton Blackwood and Josh Lyons.
4/22/19 – Sustainability & Resilience #EarthDay2019
In honor of Earth Day, #TeamThrasher is featuring our LEED APs that have helped design sustainable LEED certified projects. Thrasher has six LEED APs and have worked on three USGBC LEED Certified Buildings. Read more about our features below!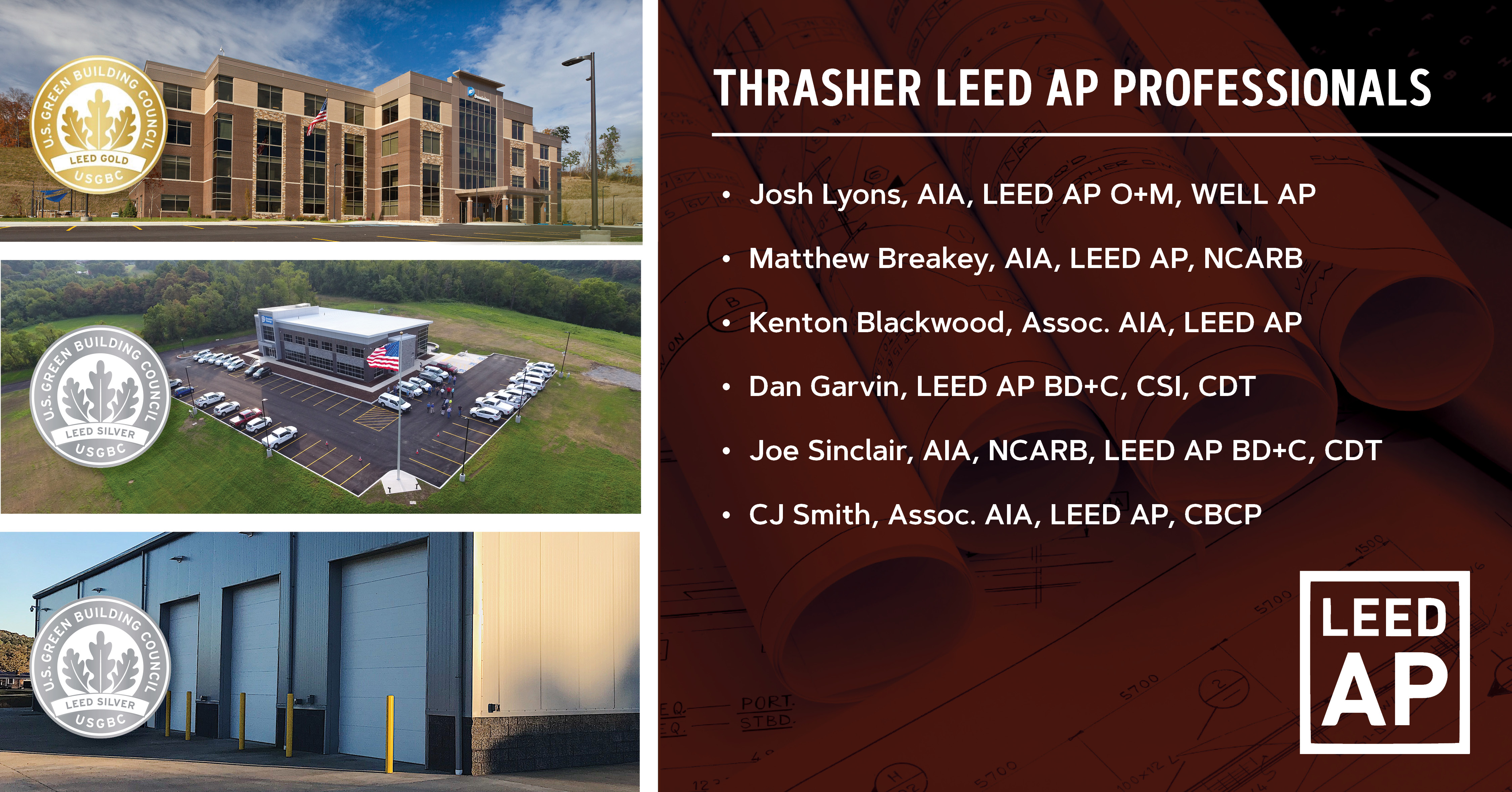 Josh Lyons, AIA, LEED AP O+M, WELL AP
Josh Lyons has been a member of Team Thrasher for over five years and currently serves as a Project Architect. Josh is a highly talented BIM operator and is able to produce life-like renderings and 3-D models for his clients. His degree in interior design works in conjunction with his architectural education to give him a complete understanding of building design and layout, taking the entire building into consideration. Josh works on a vast array of project types, including office renovations, educational facilities, recreational facilities, medical centers, and retail spaces. In his recent work, Josh has taken on a larger role with construction administration. He is on-site regularly, ensuring his projects are completed on time and up to specs.
Matt Breakey, AIA, LEED AP, NCARB
Matt Breakey has over 20 years of experience providing architectural design and management services. He has worked with a wide range of clients, including those in the education section (K-12 and higher education), state, federal, correctional, commercial, and multi-unit residential and healthcare providers. Matt spent part of his career providing oversight for major capital construction projects for two auxiliary entities at a higher education institute. This experience gave him a refined eye for the design aspect as well as project construction and feasibility. As a LEED Accredited Professional, Matt works with clients to find cost saving and sustainable features that will enhance their projects.
Kenton Blackwood, Assoc. AIA, LEED AP
Kenton Blackwood has 35 years of experience in the planning, design, bidding and construction of architectural projects throughout the State of West Virginia. Kenton is well-versed in site evaluation and design, building program evaluation, planning and design, construction document development, bidding and construction administration, on-site construction observation, and is very knowledgeable in Fire/Life-Safety Code requirements and ADA/Accessibility Design Standards. He has extensive experience with WVSBA funded projects and is familiar with the agency's Policy and Procedures and Quality/Performance Standards. Kenton has an unsurpassed understanding of technological architectural media with his knowledge of vector-based 3D modeling and CAD applications.
Dan Garvin, LEED AP BD+C, CSI, CDT
Dan Garvin started at Thrasher as a Project Draftsman in the Architecture Department after graduating from Fairmont State University with a Bachelor of Science degree in Architecture. Since then, Dan has taken on the role of Project Manager where he has managed and designed a wide array of public and private development projects. He is proficient in the Building Information Modeling software Revit and other project management software. Dan also has extensive experience performing construction contract administration for each of his projects.
Joe Sinclair, AIA, NCARB, LEED AP BD+C, CDT
Joe Sinclair brings more than 10 years of architectural experience in all phases of design ranging from commercial renovations, additions, and new construction to historic preservation and multi- and single-family residential projects. Joe's resume is built with architectural experience from Savannah, GA; Atlanta, GA; Charleston, WV; and North Central West Virginia.  Joe joined the Thrasher team in 2017. Joe is an Iraq War Veteran and former member of the West Virginia Army National Guard where he served as a Combat Engineer and Squad Leader. In addition to working full-time as an Architect at Thrasher, Joe serves as an Adjunct Professor in the Construction Management program at BridgeValley Community & Technical College in South Charleston, WV.  Joe's expertise lies in project design, management, production, and delivery.
Charles "CJ" Smith, Assoc. AIA, LEED AP, CBCP
As a LEED Accredited Professional, CJ works with clients to find cost saving and sustainable features that will enhance their projects. CJ has expertise in a wide array of projects throughout the Country. Those projects include public and private office designs, building additions and renovations, financial institutes, public safety buildings, healthcare complexes, historic building preservation, educational facilities, single and multi-family residences, and recreational facilities. CJ has experience in several critical 2D and 3D CADD design programs, most notably including a mastery of Autodesk Revit, Sketch Up, Adobe Suite, Lumion, and AutoCADD.
LEED ACCREDITED BUILDINGS: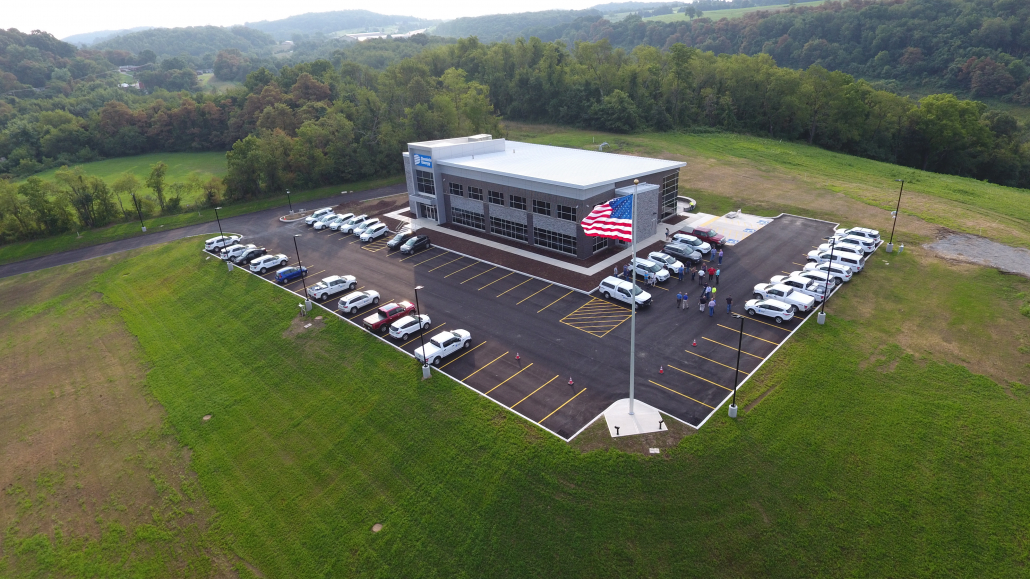 Dominion Energy Office – Delmont, PA
Thrasher's newest LEED Silver certified building is in Delmont, PA for Dominion Energy. Read more about this project here.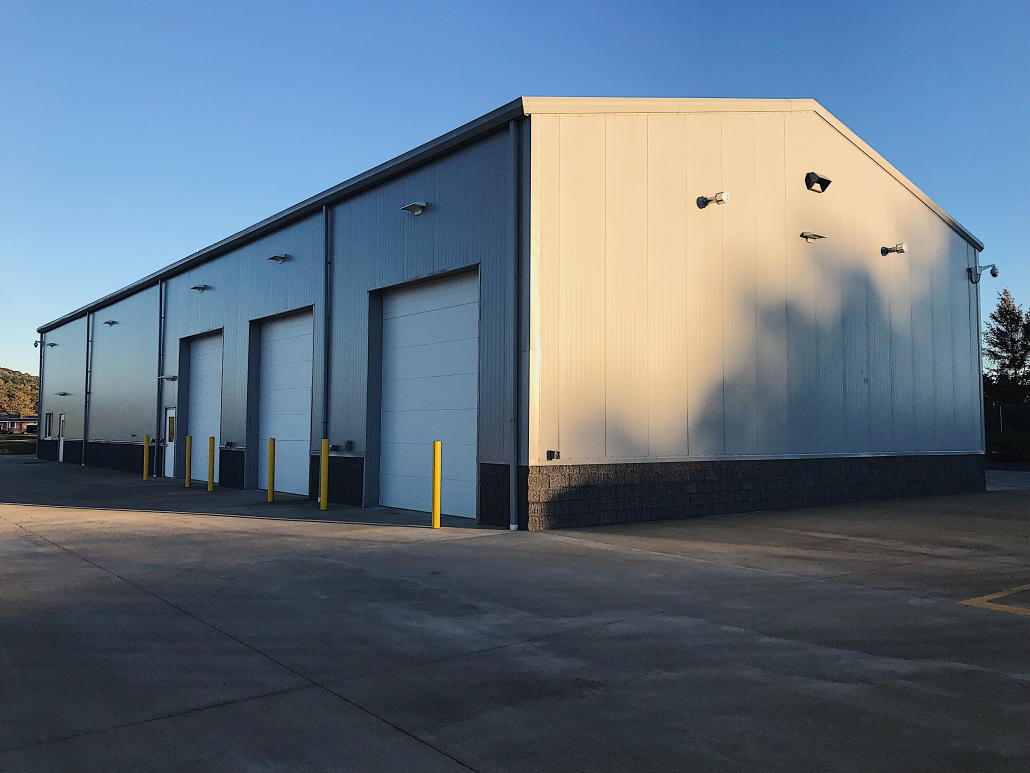 Dominion Energy Office – Summersville, WV
The Dominion Energy Office is Summersville, WV is the first in the state of West Virginia to achieve LEED Silver certification. Thrasher was excited to play a role in this monumental achievement for Thrasher, Dominion and the state! Read more about this project here. 

Dominion Energy Headquarters – Bridgeport, WV
Thrasher completed the new 129,000 SF new Dominion Headquarter office located in Bridgeport, WV in 2015. The building features green design technologies and is the largest privately owned LEED accredited facility in the State of West Virginia.
For this project, Thrasher was responsible for architectural design, project management, schematic and final design, permitting, construction documentation, and construction oversight. The project also features landscape architectural design and interior design by the Thrasher team
https://thethrashergroup.com/wordpress/wp-content/uploads/2019/04/DJI_0139.jpg
2250
4000
Ashley Butler
https://thethrashergroup.com/wordpress/wp-content/uploads/2016/11/thrasher-logo-LARGE-02.png
Ashley Butler
2019-04-23 10:40:22
2019-04-26 16:31:16
National Architecture Week 2019