Long-time WVDOH employee brings transportation specialty to Thrasher

BRIDGEPORT, WV – The Thrasher Group has grown over the past two years, adding services and employees to meet the infrastructure and development needs of the region. The latest addition is the hire of Transportation Specialist Donald Williams, who spent more than 30 years with the West Virginia Division of Highways.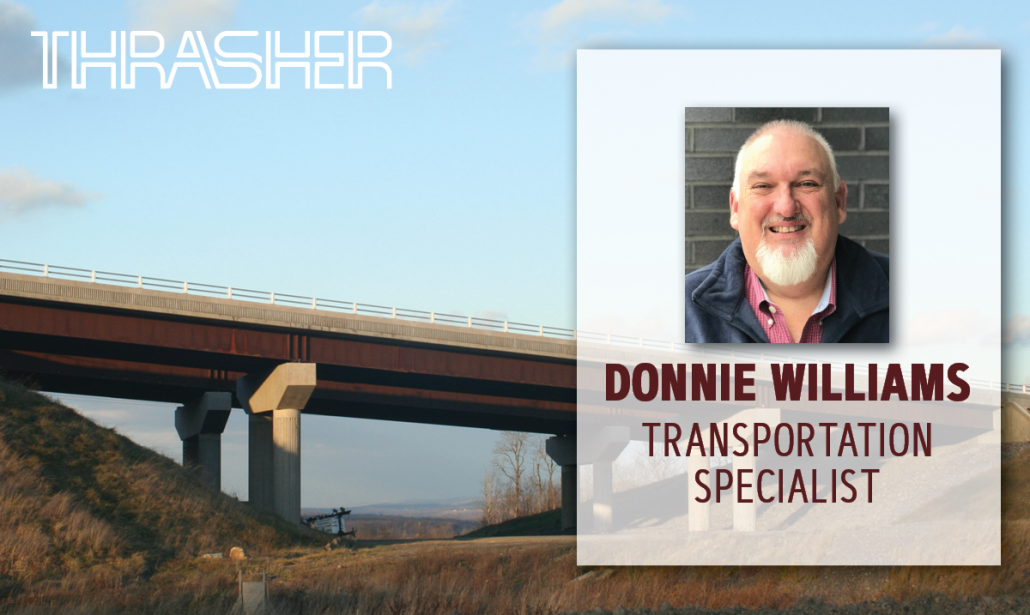 Williams had a long and varied career in the WVDOH, holding more than half a dozen titles in his time there. His work encompassed everything from the biggest bridge rehabilitation in WVDOH history to salary studies and personnel oversight.
Most recently, Williams served the WVDOH as the engineer and manager for District 4, overseeing all of the Division's organizations within Doddridge, Harrison, Marion, Monongalia, Preston, and Taylor Counties. In this position, he supervised more than 450 employees, developed budgets and goals, worked with local officials and media, and oversaw maintenance, construction, bridges, and other transportation sections.
It was Williams's intent to retire when he left this position last October, but when The Thrasher Group reached out to him, it was an opportunity he was excited to join the team.
"I have a real passion for the work I do," Williams said. "Spending time developing projects and training younger engineers gives me immense joy, and that's exactly what Thrasher was offering up to me; the chance to work with an enthusiastic young staff in a refreshing, new atmosphere."
Williams's passion has been more than evident – while he is still semi-retired, he has already brought a host of new ideas and a bright energy to the company.
"We are thrilled to have Donnie in the Thrasher family," said CEO Chad Riley. "His knowledge and experience are unparalleled, and he will continue to be instrumental in improving West Virginia's infrastructure."
Thrasher's Transportation Division provides works with clients from federal aviation to local municipalities. Williams's focus will primarily be on West Virginia roadways and bridges, training young engineers to serve the state for years to come.
https://thethrashergroup.com/wordpress/wp-content/uploads/2016/10/Project-SherrWVbridge-05.jpg
1157
1728
Ashley Butler
https://thethrashergroup.com/wordpress/wp-content/uploads/2016/11/thrasher-logo-LARGE-02.png
Ashley Butler
2019-03-26 08:44:24
2019-03-26 08:44:26
Long-time WVDOH employee brings transportation specialty to Thrasher